The role of mediators in Baltimore is to help parties with differences of opinion resolve disputes. Mediation is an opportunity for two or more parties to meet in a neutral setting to work toward mutually agreeable settlements. If you think you might benefit from mediation services or you would like to learn more about the mediation process , you can contact an attorney for guidance.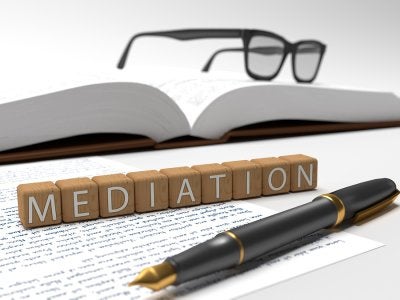 When is Mediation Appropriate?
Mediation is appropriate for many types of cases. It is commonly utilized in family law matters. In fact, in most cases a court will require divorcing individuals to participate in mediation. It's common for mediators to guide discussions pertaining to child custody, child access, and visitation schedules . Mediators can also help parties settle alimony and marital asset division. However, mediation services are not confined to family law. Mediation is often helpful in the corporate world, such as when two business partners have a dispute, employee disputes, and probate/trust disputes.
When is Mediation Best Avoided?
Although mediation can be effective in resolving disputes, there are certain cases in which it might not be appropriate. If one of the parties has a history of domestic violence or abuse, it is not unreasonable to assume that the other party may not wish to engage in discussions. However, sometimes domestic violence cases can be mediated by everyone participating on telephone so that each party feels safe.
Can the Mediator Impose a Mandatory Agreement?
In arbitration, an arbitrator hears both sides of the case and then makes a binding decision, which the parties may not necessarily agree with. Mediation services are different. The mediator does not take sides, nor does he or she issue a decision. It's the role of the mediator to help both parties explore the issues, consider what may or may not happen in court, develop solutions, and come to an understanding. Mediation doesn't always result in a settlement. If the parties cannot agree, the issues may be decided in court.
How Can I Prepare for Mediation?
You can consult an attorney for assistance preparing for mediation. You may find it helpful to discuss what the issues are, what are possible outcomes (both good and bad) if your situation went to Court, your legal rights, and what you might expect from the process. By reviewing the issues at hand, you will be able to clearly articulate your position at mediation. Remember that successful mediation sessions involve civil and mutually respectful communication as well as an open mind to resolve the dispute.