Preparing for your Bankruptcy Consultation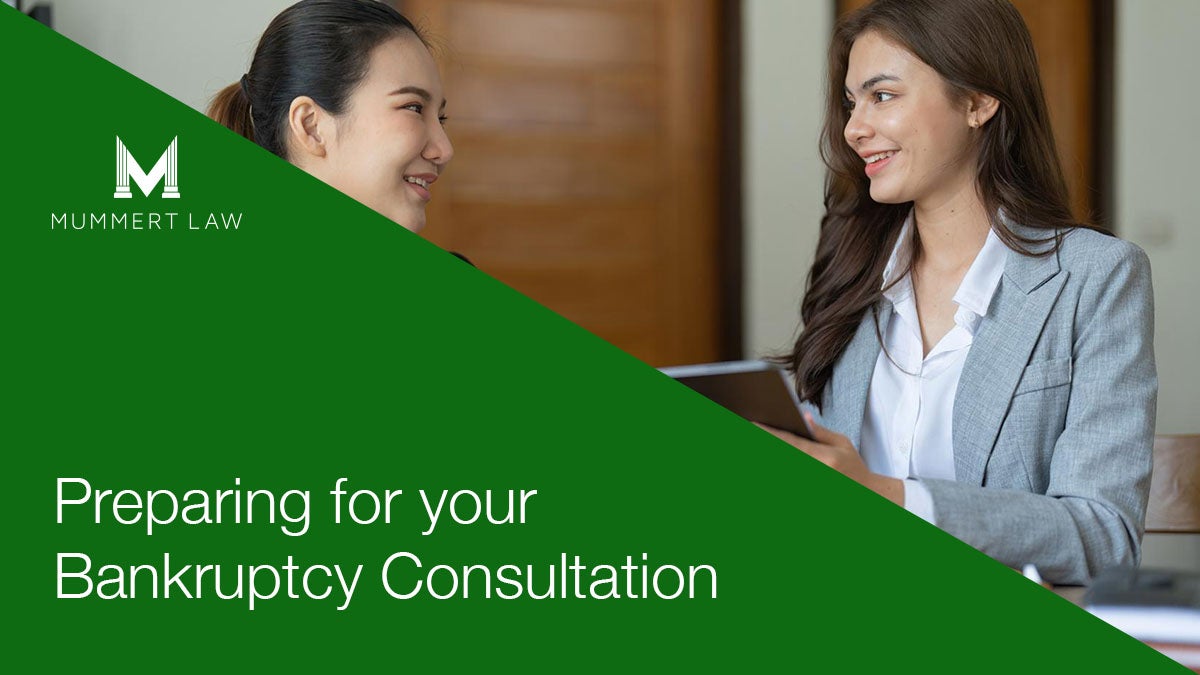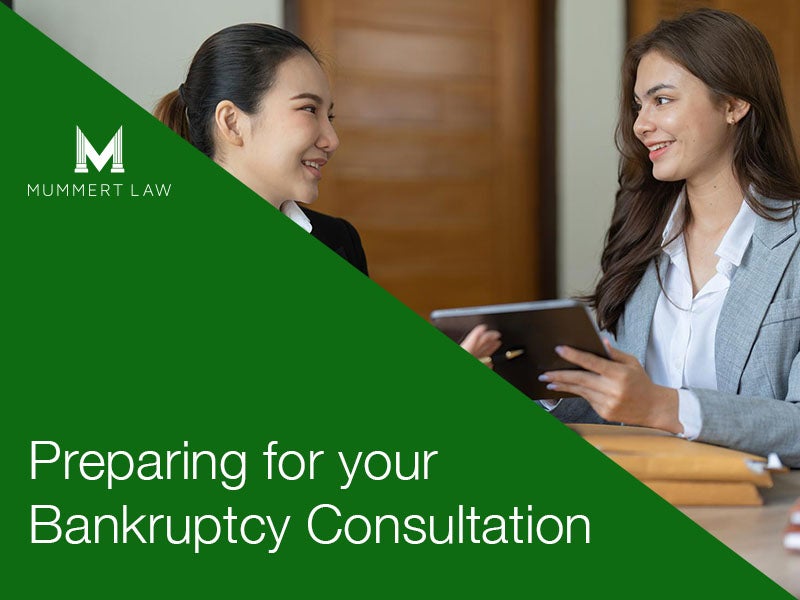 During your bankruptcy consultation, you'll meet with an attorney or paralegal to discuss your financial situation, goals, and why you think a Chapter 7 or Chapter 13 bankruptcy is the right step. Using that information, the bankruptcy attorney will determine if you're a good candidate for bankruptcy and which type.
Here's how to prepare for your meeting with the bankruptcy attorney.
Questions They Will Ask You
At your bankruptcy consultation, the attorney will have to ask you questions about your finances and life to know how they can best help you.
They'll ask you what led you to consider bankruptcy, whether it's medical bills, credit card debt, an income imbalance, or other reasons. They may also ask:
What your marital status is
If you have children
What your and your spouse's income is
Are you separated or divorced from a spouse
Do you have a marital or separation agreement
Is there a Judgment of Absolute Divorce
What your last six months of income is
Whether you own a business or are an employee
Approximate value of any assets you own
If you've recently transferred or sold any property
Whether you owe back taxes or are behind on alimony or child support payments
If a creditor has sued you or has a judgment against you
What you hope bankruptcy will achieve
Documents To Bring To Your Bankruptcy Consultation
You may receive a list of documents the attorney wants you to bring to your first bankruptcy consultation. If they don't, this list can help you gather documents. Having your financial documents handy will make the process easier and help the attorney understand your financials to determine if you're a bankruptcy candidate:
Copies of your social security card and driver's license
Your last two years' tax returns
Bank statements for the previous six months
Pay stubs for the last six months
Current mortgage, car loan, and other debt statements
The current estimate of your vehicle's value (can get from NADA or Kelley Blue Book)
Recent statements from investment and retirement accounts
Copies of life insurance policies
Foreclosure paperwork if your home is in foreclosure
Copy of separation or divorce agreement, if applicable
Questions To Ask
Although the bankruptcy attorney will provide a lot of information, you'll probably still have questions to ask them. Before the meeting, write down your questions so you're prepared and won't forget them.
Here are some ideas of questions to ask the bankruptcy attorney during your initial bankruptcy consultation:
Should I file for Chapter 7 or Chapter 13 bankruptcy?
Do you accept payments, or do I have to pay fees upfront?
Can I keep my car and house?
Can I keep my other property and bank accounts?
What do your fees include?
What do your fees not include?
How long does it take to prepare and file my bankruptcy petition?
Will I have to go to court for the bankruptcy hearings?
How long does the process take?
Fees To Pay
Although your initial bankruptcy consultation is sometimes free, you must pay the attorney to take on your case. There will also be filing, court fees, plus additional costs for the credit counseling, debtor education course, credit report, and means test.
Bankruptcy law requires your attorney to provide a detail retainer outlining the initial costs and potential additional costs. Discuss the fees with the attorney and ask for a copy of the retainer agreement. Ensure you understand each fee, how much the entire process can cost, and your payment options.
Planning Your Bankruptcy Consultation with the Attorney
Preparing properly by gathering the necessary documentation and information will help make your consultation go smoothly and maximize your time with the bankruptcy attorney. Leave plenty of time to gather paperwork before your meeting, as it can be time-consuming.
How Mummert Law conducts its initial consultations
At Mummert Law, you will meet with an attorney, not a paralegal. Tim will ask a series of questions to have a basic understanding of your matter. The initial consultation can be in person or via Zoom.
Are you seeking a bankruptcy attorney in Maryland? Contact Mummert Law today to schedule your bankruptcy consultation. Tim Mummert has years of bankruptcy experience and can work with you to chart the best course of action!