Child Support and Bankruptcy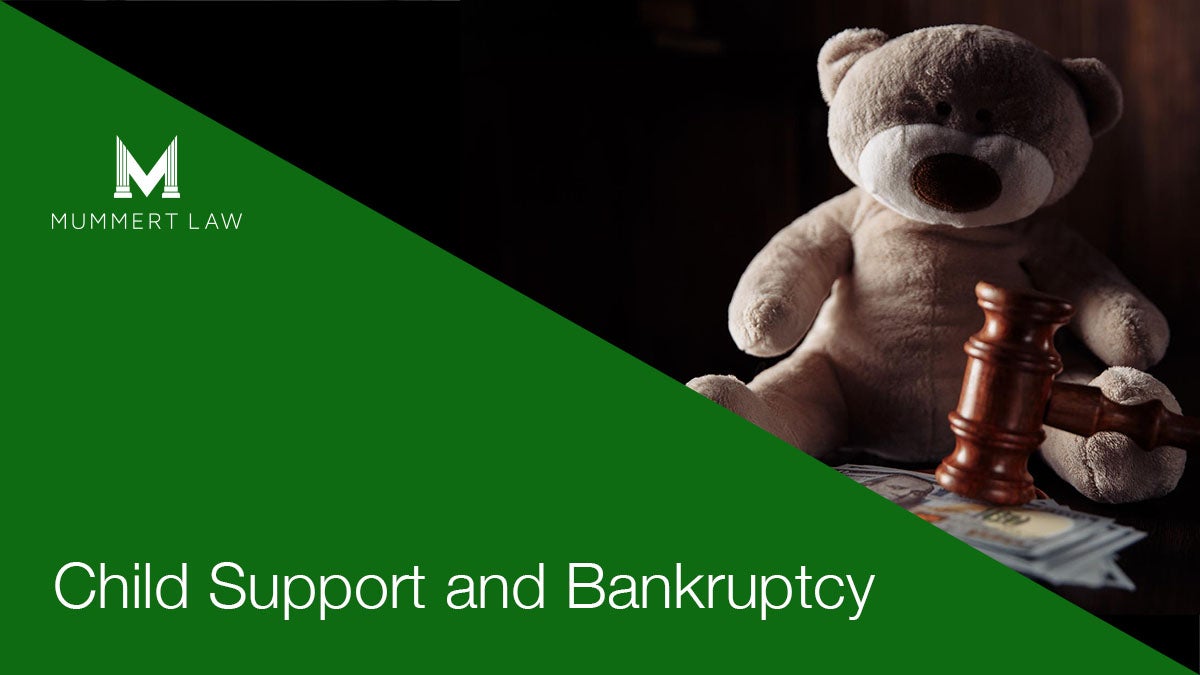 Child Support And Bankruptcy
Some parents paying or receiving Child Support find themselves in a financial situation that requires intervention. Bankruptcy is one way people can escape debt and face a better financial future.
Suppose you owe child support and plan to file bankruptcy, or your child's co-parent is, it's essential to understand how bankruptcy can affect child support. Bankruptcy will not change the mutual agreement or court-ordered child support obligations. But there are ways it can make recovering overdue child support easier and different types of relief available.
Types Of Bankruptcy
There are two types of bankruptcy for individuals: Chapter 7 and Chapter 13.
Those who meet certain income requirements can have all their unsecured debts forgiven under a Chapter 7 bankruptcy. However, the court may require selling some property or assets to repay creditors.
Those over the income requirements can still get relief through Chapter 13 bankruptcy but may have to pay back all their obligation.
Bankruptcy And Child Support Litigation Stay
How the court treats child support litigation, and bankruptcy depends on the type of bankruptcy.
Chapter 7 Bankruptcy
When filing a Chapter 7 bankruptcy, the courts put an automatic stay in place to prevent claims against you. But the stay does not stop actions from seeking past due child support or establishing child support. Proceedings in these matters can continue despite your Chapter 7 bankruptcy filing.
It's also important to note that your income earned after filing Chapter 7 bankruptcy cannot be part of the bankruptcy estate. It can, however, determine child support obligations or pay arrearages.
Chapter 13 Bankruptcy
A Chapter 13 bankruptcy filing works differently. All earned income becomes part of the bankruptcy estate. The party seeking to impose a child support obligation can have the family court determine the amount of the child support.
Someone who is already subject to a child support order but fails to make the payments after filing Chapter 13 bankruptcy may find the court lifts the stay to allow recovery of support payments.
A Chapter 13 Plan must also address the past due child support obligations. Most of the time, all of the arrears must be paid to the Trustee and paid to the parent receiving the child support. There are exceptions. For example, if there is already an established arrearage payment, the Debtor may not be required to include the arrears in the Chapter 13 Plan if the arrears are satisfied during the bankruptcy.
How To Protect Child Support Payments From Bankruptcy Filing
Suppose you have money in the bank or cash from child support payments you received before filing for bankruptcy. In that case, it may become part of the bankruptcy estate. Maryland recognizes child support payments as exempt, meaning the bankruptcy trustee cannot use it to pay off creditors.
To ensure your child support money stays safe, it must be listed as an asset in your bankruptcy petition and properly exempted property. However, if it is comingled in a bank account with your normal earnings, it may have lost exemption. An experienced attorney will be able to trace the funds back to origination as well as other funds to be able to argue that it is still child support and should be exempt from distribution.
Child Support: A Priority Debt
Both federal and state court systems recognize the importance of providing for minor children. Whether you file for Chapter 7 or Chapter 13 bankruptcy, child support is not dischargeable in bankruptcy because it's a priority debt. You will also be responsible for paying any overdue payments from your bankruptcy process.
As a priority debt, child support takes precedence and is one of the first obligations paid from a bankruptcy proceeding. You must pay child support in full as part of a Chapter 13 bankruptcy repayment plan before you receive a discharge from your debt obligations.
Ensuring Bankruptcy Doesn't Affect Child Support
If you're receiving child support or paying it, you want to ensure your child gets the care they need and the custodial parent the funds to do so. If you don't already have a bankruptcy attorney, contact Mummert Law today to schedule a consultation to ensure bankruptcy doesn't affect your child's support payments.